About DogPhoto.com
We are Kerrin Winter and Dale Churchill, a husband and wife team with a passion for dogs, horses and photography. Both long-time professional shooters, we met in Dallas, Texas in '92 at a pro shop while returning equipment from our days' work. At the time Dale was shooting human models for the Dallas fashion industry as well as working as a Lighting Director on motion picture sets.



Get to know us a little better, scroll on down...




| | |
| --- | --- |
| | Kerrin was already working as a dog and horse photographer through the famous sporting art gallery, Collectors Covey in Highland Park Village. Although she loved her clients and subjects, she was often frustrated with the limitations as a lone shooter. In college she'd majored in Television production (she was a TV producer and news anchor before deciding to "do what you love") and understood the importance of good lighting and directing. So it was natural for her to want more from the pictures than she was getting. "I dreamed of dogs and horses lit professionally and of having the freedom to art direct my subjects. |
| | |
| --- | --- |
| Of course, these things can only be obtained through true partnership but my order was pretty tall. I was looking for a kindred spirit. Someone who had the same production sensibilities, work ethic, ambition and an even greater working knowledge of professional lighting and commercial production. Luck was with me that day as Dale drove up to Pro Camera in an old '52 Ford pick-up truck - the truck of my dreams." After returning our equipment, we struck up a conversation about engine valves and the rest is history. Together we have traveled the country since 1992, working as a team producing images as varied as the needs of our clients and having the time of our lives. | |
In 1998, our book, "How to Photograph Dogs" was released to critical acclaim from reviewers at three major dog magazines, the AKC Gazette, Dog World and Dog Fancy.
&nbsp&nbsp&nbsp&nbsp The book was so popular that the original press run of 20 thousand sold out. A second printing has also sold out! In order to keep up with current demand we have produced a CD ROM version that right here.
Inspired by our written success, Kerrin has continued writing, concentrating on magazine feature stories as well as penning the Performance column for the AKC Gazette.
Click HERE for a list published stories.
Kerrin Winter has been involved in purebred dogs since 1968. For many years her parents were involved in Cocker Spaniels but when Kerrin was a child, her dad became interested in German Shorthaired Pointers.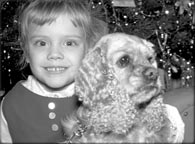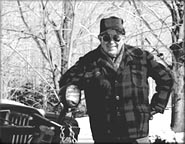 | | |
| --- | --- |
| Growing up near Cleveland, Ohio, Kerrin and her sister began showing dogs when a next door neighbor asked them for elhp showing Saint Bernard puppies at a local match. Handling classes began in earnest the next summer and by 1972 the sisters were showing their homebred Shorthairs in both Open classes and Junior Showmanship. | |
| | | |
| --- | --- | --- |
| | As teenagers they were the proud owner/handlers of several champion Shorthairs of the old Fliegen Miester bloodlines. Later, their interests evolved to Wirehaired Pointers, with several Stutzer Stumper children who kept the girls-turned-college students, active in the dog world. | |
Nowadays Kerrin and Dale share their lives with a tribe of English Cocker Spaniels, a Giant Schnauzer and a Chihuahua as well as 3 Welsh Mountain Ponies. To meet our family, Click Here.
| | |
| --- | --- |
| | Still very interested and involved in dogs, Kerrin considers herself an all-breed historian and will often spend hours researching breeds before an important shoot. Her knowledge of the individual breeds of dogs and her feeling towards them is part of the defining style of Winter Churchill Photography. |
| | | |
| --- | --- | --- |
| | Known in the motion picture business as a Gaffer, Stills Photographer and Lighting Technician, Dale Churchill has worked on such programs as Walker Texas Ranger and the award winning PBS programs Wishbone and Barney and his Backyard Gang, as well the feature films Bottle Rocket, Blank Check and even music videos for Billy Dean, Chris Ledoux and Ricky Lynn Gregg. As a stills photographer, Dale has been shooting professionally since 1979, and without a W-2 since 1984! | |

His set lighting ability and his familiarity with cameras of all formats has provided him with clients as diverse as Neiman Marcus, Coca-Cola, Capital Records and Fossil Watch.


---
| | | |
| --- | --- | --- |
| | When he's not chained to the big screen monitor, he's often in the workshop inventing gizmos to use on our shoots. Always smiling on set, Dale is famous for his friendly manner and his ability to fix ANYTHING with just what-ever happens to be on-hand. He uses light like Rachel Ray does salt. With an easy manner born of long experience, he'll tweak the lights to taste, adding a pinch more, where it "feels good" to him. Combined with Kerrins knowledge of the Canine and Equine, our style is unique in our field. | |
---

When we met, Dale was "Specializing" in half a dozen different photographic areas. A typical month would include a couple pages of "Home Accents"for JCPennies catalog supplement, The latest uniforms on pretty girls for El-Chico's restaraunts, and at least a few days in "The Film Biz" as a Gaffer or lighting technician. Recurring Client List includes commercials for Dallas Fox affilliate Ch 4-KDFW, Pace Picante Sauce, Elliots Hardware, Feature Credits include a spot on the lighting crew for the first two seasons of Barney and his Backyard Gang, as the same spot on the fist season of Wishbone. In Dogs and Horses, Dale found the challenge he desired and his lighting and commercial production experience gave Kerrin the edge she needed. Together, we have become the team that each of us has always dreamed of. Our mutual efforts have won us praise from local publications, TV shows and national magazines. Together, we have won many awards. The professional advertising community has presented us with ADDY'S and Diamonds. Most recently, our work has won a Maxwell Award from the Dog Writers Association of America. This, for an AKC Gazette cover illustration.
---
Our biggest reward though, has to our Fan mail...we never dreamed people would actually write to us just because they like our pictures...What we hear is: Our images inspire conversation. People stop, and talk about them.
---
In Feb 2001, Studio Photography & Design magazines Cover Story featured our business.

From our pages, you will see that we love dogs, horses and photography. We are experts in our craft and take our business and art, very seriously. Thanks to the continual improvement in our craft, cameras and the Internet, we have come full circle in this last 20 years, and are once again producing video! If you have a project that involves dogs and cameras, whether photo or video, you have come to the right place. We're friendly, knowledgeable and lots of fun. Call us at 440 628-5209 or send us an e-mail, lets "talk dogs".